El Chaltén is a tiny alpine village (population: 500) established in the mid 1980s and serves as gateway to all trails up and around Mt. Fitz Roy. In fact, it likes to call itself Argentina's national trekking capital. It features a couple of bakeries, clothing stores for last minute weather prep, and an ATM that just might honor your request for cash if you are lucky. For me the village's best feature was the local microbrewery; it had a great ambiance that we took advantage of the next two evenings, and their blondes and stouts were not half bad either. Since tourism is its sole raison d'etre, being a resident must be hard, and it would seem many have tried and failed judging by the numerous abandoned construction sites.
We arrived late in the afternoon and had a few hours of free time to explore the town before dinner, which we did while trying not to be blown away, not by anything the town had to offer but rather the winds that were getting stronger by the minute. I awoke several times that night fairly certain our hotel had lost its roof.
The next morning we got up around 7, in time for our first major hike of the trip up to a view point of Fitz Roy. When I looked out the window, however, I became certain we weren't going anywhere. The howling wind had brought some rain with it and was mercilessly pounding the windowpane. So, Nicole and I coolly walked over to the breakfast area and were surprised to find that many in our group were in their hiking gear. Munching on my bland toast, I looked over at Gem's table and asked: "wait, Gem, are we actually going out there this morning?" He gave us a somber and very unreassuring nod and had a look on his face that expressed grave doubt as to whether hiking in those conditions was a wise thing to do. When Lucia, the local expert guide, arrived all cheery and bright-eyed, however, the group bent to her will and we followed her into the wild all togged up in waterproof everything.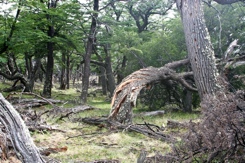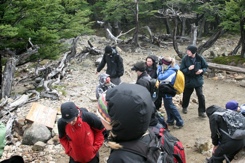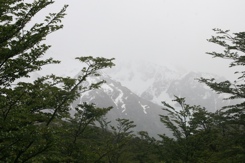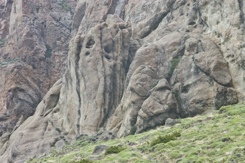 An hour or two and about a thousand puddle hops later we reached the critical juncture to go up the Fitz Roy overlook. The weather was just not cooperating and Lucia made the call to bail and led us to a fairly sheltered spot in the woods where we could have lunch before heading back to the village. A few thousand feet from town, we got a brief ten minute reprieve when the sun found an opening in the clouds and illuminated the Rio de Las Vueltas river valley. Then the heavens completely opened and poured their heart out just as we made it back to the hotel, wet and windburnt. With nothing else to do, we spent the rest of the afternoon watching shark attacks and other nature shows on TV with no sound on, which reminded someone of a famous YouTube video: The Battle of Kruger that I was told I absolutely have to see. In fact, if you have 8 minutes to spare and haven't seen it, go on, click on the link, I'll wait...