I have many fond memories of growing up in South Africa: playing on the immaculately kept lawns of the Union Buildings, my year and a half at the prestigious Pretoria Boys High, family trips to the Kruger National Park, and the gorgeous purple canopy with which the jacarandas enveloped Pretoria every spring. So, it was very exciting for me to return this year and see this magnificent land again through the eyes of an adult. My cousin Polina generously invited my family to attend her wedding, and my dad and I gladly accepted the invitation.
The Wedding
The wedding was held at the Green Leaves Country Lodge, a most picturesque setting at the foothills of the Magaliesberg mountain range near the Hartbeespoort Dam. The stunning bride and dashing groom exchanged their vows and stepped out of the chappel to a shower of rose petals and cheers from everyone.
They were even honored by the presence of two wild giraffes who stopped by unexpectedly for a peek but respectfully did not crash the party.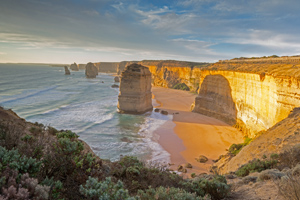 A Tour of Pretoria
My uncle George was a gracious host and gave us a long tour of the city, and with each stop memories were flooding back. Some places were exactly as I remember them, others had changed beyond recognition. Our first stop was the Union Buildings, South Africa's parliament house. The meticulously trimmed gardens were exactly as I remembered them bursting with color and full of delightful fragrances.
A nice couple asked me to take their picture but had no camera with them and so asked me to used mine. To couple: hope you find it on this travel log as I do not have your contact info!


Wild Animal Park
Just a mile from my uncle's house is a wild animal park where locals can go for a walk and see kudu, zebras, ostriches, and guineafowls. On our visit, a pugnacious antelope was relentlessly chasing its hapless young male rival in a show of dominance and completely ignored all white flags.
The zebras, however, were peaceful and less interested in impressing their visitors.


And the ostrich was, well, mildly curious.


The Voortrekker Monument
The
Voortrekker Monument
sits atop Monument Hill and commemorates the Dutch pioneers who settled in Pretoria after leaving the Cape Colony in the 1830s. We were sometimes taken here on school field trips and on weekends played with my sister on the flowering lawns, encircled by wagon-carved walls.
I quote you Alexandra Fuller on the history of the Voortrekkers:
The "Groot Trek" of 1835, when more than ten thousand Boers, the Voortrekkers, left the Cape Colony and came north. They left the paradise of the Cape because they were fighting their Xhosa neighbors and because they were dissatisfied with the English colonial authorities, who had forbidden the slave trade and who believed in equality between whites and nonwhites. So many men, women, and children died during the Great Trek, their bodies draped gorily over wagon wheels and under wagon wheels and next to horses in the illustrations in our history books [and the interior walls of the Voortrekker Monument]. They died because they believed that the British policy of Emancipation destroyed their social order, which was based on separation of the races. They saw white predominance as God's own will.
Safari Centre
The Safari Restaurant and Conference Centre in Pretoria is a really neat place where you can find pots, plants, flowers, statues, and fountains for your garden; have lunch with friends and family, pat and play with all sorts of animals; and even get married!
Some of the animals were caged:

Others were free roaming and happy to be there to grab the visitors' attention and even share some with each other through gentle grooming and back scratching.

But, visitors, beware those strong claws if you get too close.


Among the other free roaming creatures in the center were a bevy of black and white swans living in apparent harmony.


And each swan was just as graceful as its sharply contrasted cousin.