After the pie shop in Cann River, Lenny drove to a little town called Sale, where I took over and three hours later, we approached the outskirts of Melbourne. The suspicions I had about coming down with a cold were turning into certitude the closer we got to the city. Armed with a crude city map in our travel guide, we followed the M1 and just before our exit, a voice came on the car radio saying the freeway was closing down for maintenance at 9pm and all vehicles must exit. Our clocks showed 8:57pm. Our exit had an ominous sign warning us our car had to be equiped with an "e-TAG" to avoid a $100 fine. With essentially no other options, we took the exit, witnessed several right turns from the left lane over the tram tracks, drove on the tram tracks, and circled the central business district (CBD) a good number of times before we finally found our hotel. By now my cold was in full force, and I felt pretty miserable.
The next day, while I tried to regain my strength, Lenny set out on a bike tour. Eventually, I managed to get out of the hotel and slowly do some exploring on my own.
There are many ways to get around in Melbourne: by foot, bicycle, car, taxi, tram, and of course, horse and carriage. It's not uncommon on certain streets to see them all in action, at the same time.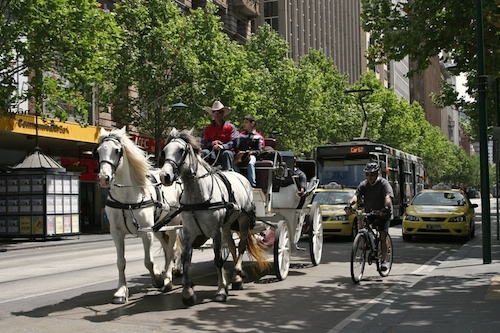 There are over 180 alleys in Melbourne — here are two and a half: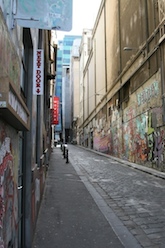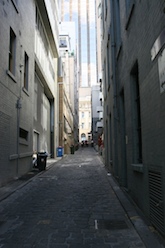 The city also has no shortage of street performers. Unlike their rare Sydney counterparts, these were quite skilled at drawing crowds that actually paid attention.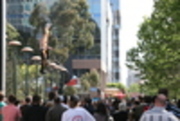 St Paul's Cathedral was also hard to miss with its impressive spires piercing the clouds.