It really is enormous. At 97 square miles, its area is the same as that of Buenos Aires, and from this view we were only seeing but a fraction of it. The winds were too strong to stay here long (the view point had a 20 ft long glass pane for protection!), so we continued on towards the visitor center while Cecelia gave us more background. The word perito in Spanish means expert and is an honorific title of sorts, and Moreno refers to Francisco Moreno, an Argentine explorer and academic who was sent by the Argentinian government in the mid 1880s on a surveying mission along the Andes and down into Patagonia. Ironically, he made it within miles of the glacier but never actually saw it. Despite this gross omission on his part, the government still named the glacier after him.
When we reached the visitor center, Cecelia led us down an elevated walkway fitted with high-quality wooden rails down to the southern side of the glacier for a closer look. She said the walkway was a new addition to the park and although she didn't know how much it had cost, the cost must have been considerable. From up close, one could see where the ice reaches land and begins to twist and warp before breaking off piece by piece into the lake.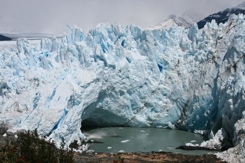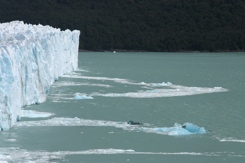 At the point where the lake touches the lake shore, it acts as a natural dam, dividing the Lago Argentino in two. And because the southern part of the lake is at a higher elevation, each spring the water gradually forms an arch in the ice, which gradually erodes away until it is weakened to the point of collapse and falls into the lake. The last time that rupture occurred was in 2008 and before that 2006 and 2004. And before that, you'd think it was 2002, but in fact, it was 1988. There is no real pattern to it going back all the way to 1917.
Perito Moreno is one of the few glaciers in Argentina, and indeed the world that is actually growing in size, the reason for which is debated by scientists. Evidently, the effects of global warming have yet to make an impression here. At the edge of the lake, the ice is on average over 60 meters above the surface of the lake and extends another 100 or more below the lake.
A few of us wanted to get an even closer look and boarded a boat that gives tourists a view from otherwise impossible angles and gets as close as 300m from the ice. Any closer than that would be extremely dangerous as the captain may not have enough time to react to ice blocks breaking off and turning into icebergs, an event that occurs every 15 minutes or so. The strong winds can then carry the icebergs at great speed in unpredictable directions.