Unlike hotel rooms, tents carry sound easily, and it was amusing to overhear others discovering the neat little features of our North Face tents one by one. "Oh, cool, these are glow in the dark zippers!" "Man, this sleeping bag is super warm." Indeed, the sleeping bags were warm. Rated at -20, they kept us very comfortable, and we slept soundly. I wanted to catch the early morning colors on the Torres and so set my alarm for 4:45am. Nicole had expressed interest in joining me but when I finally managed to wake her up, she deemed it too cold to go out. I got my camera and tripod and headed for a better vantage paint, leaving a cacophony of snoring behind.
As I made my way to the main road I unsettled the farmer's flock of 30 or 40 sheep who were not expecting company before sunrise. They quickly forgot about me and went back to sleep. At my chosen spot, I waited for the sun's rays, shivering and doing jumping jacks in an effort to maintain feeling in my hands. The Torres were unobstructed by clouds, but yonder east, the sun rose behind thick clouds and the whole exercise was all for naught.
Back at the camp site, a few early risers were stirring and the sweet smell of coffee was already radiating from Coté's kitchen. There was still time left before breakfast, so I snuck out again over the swampy grass to take a photo of the farm horses who seemed oblivious to the million dollar view.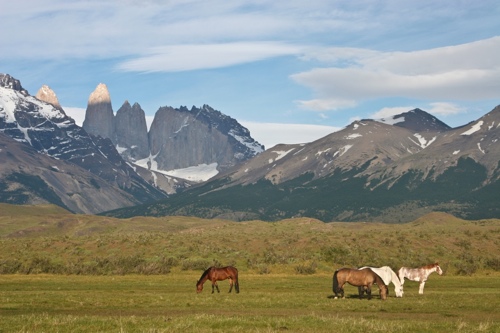 After breakfast we packed up our sleeping bags and other gear and hopped back on the minibus to take us to the boat dock.
Los Cuernos del Paine and the French Valley
A popular way to explore Torres del Paine National Park is to hike the W circuit, so called because of the outline traced out by the network of trails from west to east, a trip that normally takes five days. Our tour instead concentrated on the highlights of the park, which happen to lie on the non-differential points of the W: Gray Glacier, Los Cuernos del Paine & French Valley, and Torres del Paine.
Having checked off Torres the day before, to cover the remaining two highlights in a day and a half, this day eight, we had to take a shortcut via boat across Lake Pehoé to the Refugio Pehoe, where we would start the hike up to French Valley and also camp that night. On the road to the dock, we made a few steps to take in the breathtaking scenery.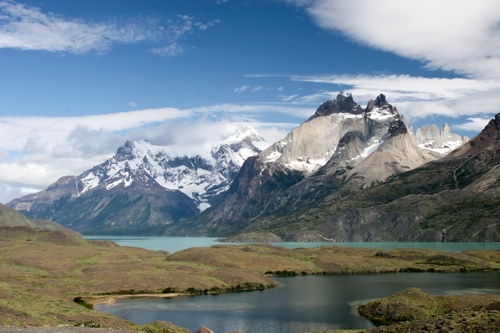 The Salto Grande waterfall was impressive but in an especially windy area. I have a video clip of several in our group struggling here to keep their footing.