Later that afternoon, our local tour guide, Paula, arrived with a minibus to take us to Otway Sound, about an hour's drive from Punta Arenas, and give us a tour of the penguin colony there. Just before we left town, we passed the cemetery, which Paula claimed was the best in South America. Thinking back to the Recoleta Cemetery in Buenos Aires, I couldn't imagine how much more outlandish this one could be. Evidently, both Chileans and Argentinians take the afterlife very seriously.
The penguin colony sits on private land and lets visitors get within feet of the birds. There are also various observation decks for a better view and even a cafeteria serving hot beverages that come in handy after all that observing in the biting wind. The penguins are of the Magellanic variety, which means they only stand 2ft tall. They mostly hang out at the beach, which is inaccessible to visitors, but waddle to land to check up on their eggs. When they do make that trip, they do so single file and surreptitiously, resembling the penguins in the movie Madagascar.
When we were visiting, towards the end of November, is when the chicks start hatching, so we must have seen the parents at their busiest time. In January and February, the young ones change their feathers and start to swim. By the end of April, the whole colony takes off on vacation to Brazil and various islands in the Atlantic.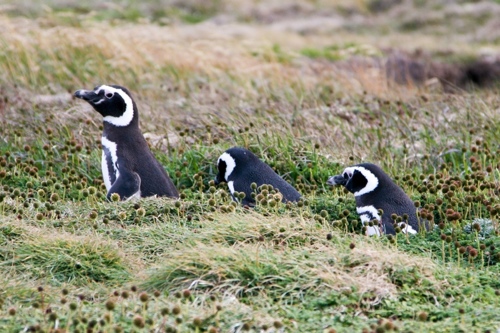 The only unfortunate aspect of the reserve is that it seems dangerously close to a coal mine and its harbor. Paula also pointed out that there is another colony of Magellanic penguins on Magdalena Island, just off the coast that has been designated a national nature reserve and is managed by a government agency but that it wasn't open to visitors in November.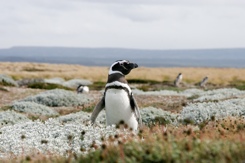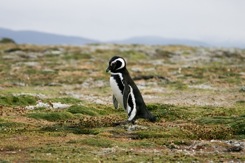 When we returned to Punta Arenas in the evening, we ate at a seafood restaurant that had the potential to be very good but ended up being a disappointment. To fix our frustrations, some of us went over to the sky bar at the local hotel casino, which was trendy and offered great 360-degree views of Punta Arenas. The view had such a strong influence on the sky bar design from an architectural perspective, that the lavatory stalls had floor-to-ceiling windows. Yes, you get a good view of Punta Arenas, but Punta Arenas gets a good view of you too.